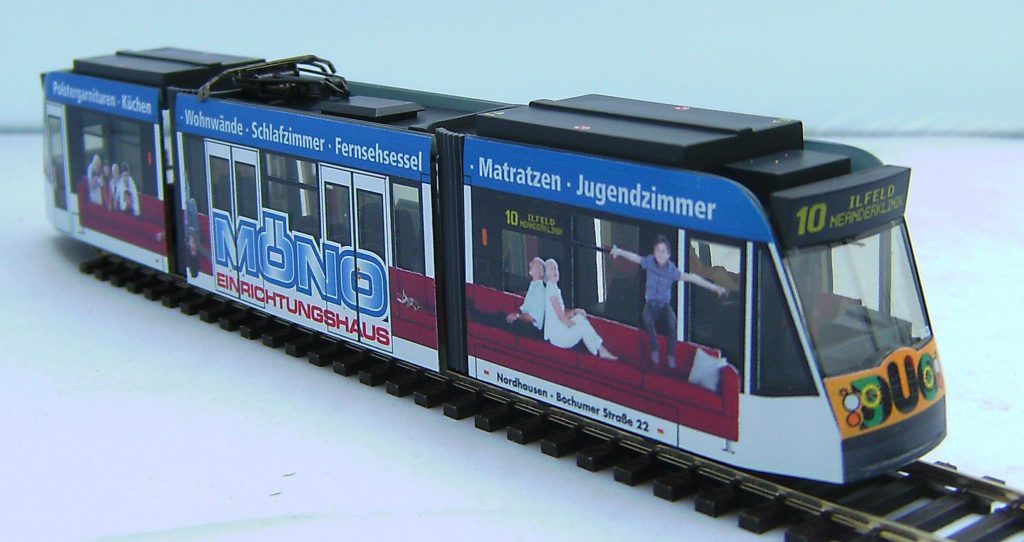 Comparison of N-scale Tramway Performance
We have bought streetcars from several manufacturers. Below is a comparative table of performances. We have chosen as main criteria the starting tension, the maximum speed and the reliability when rolling on the track.
In our opinion, we consider that the Kato Centram has the best performance, with realistic operation and speed. In addition, it features front / rear and interior lighting.
Manufacturer and tramway type
Starting voltage
Minimum stabilized speed
Stabilized speed under 7V
Maximum speed
Maximum speed voltage
Comments
Kato Centram
(2 cars)
3V
21 mph
39 mph
51 mph
16V

Plastic articulated pantograph
Front, rear and interior lighting

Arnold Duwag
(2 cars)
9V
30 mph
21 mph
60 mph
16V

Metallic articulated pantograph
No lighting

Tomytec Centram
(2 cars)
3V
30 mph
179 mph
179 mph
7V

Plastic articulated pantograph
No lighting
Optional motorized chassis (requires seats removal)

Tomytec T1000
(3 cars)
3V
49 mph
179 mph
179 mph
7V

Non-articulated plastic pantograph in raised position
No lighting
Optional motorized chassis (requires seats removal)

Hödl-Linie8 Combino
(3 cars)
3V
12 mph
50 mph
75 mph
8V

Metallic articulated pantograph
No lighting
No seats interior full by ballast and engine

 
Modemo NT85
(2 cars)
4,2V
20 mph
35 mph
50 mph
8,6V

Plastic articulated pantograph
No lighting